Transforming Lives is the fruit of our Parish Vision. It is when someone who doesn't have a deep relationship with Jesus is introduced to Him more fully and they believe and humbly accept Him into their lives. Jesus' mission is for all people to know and to love God. At St. Patrick Parish, we want to transform lives in Christ through all we do.
"But thanks be to God who gives us the victory through our Lord Jesus Christ."
1 Corinthians 15:57

It All Starts with an Invitation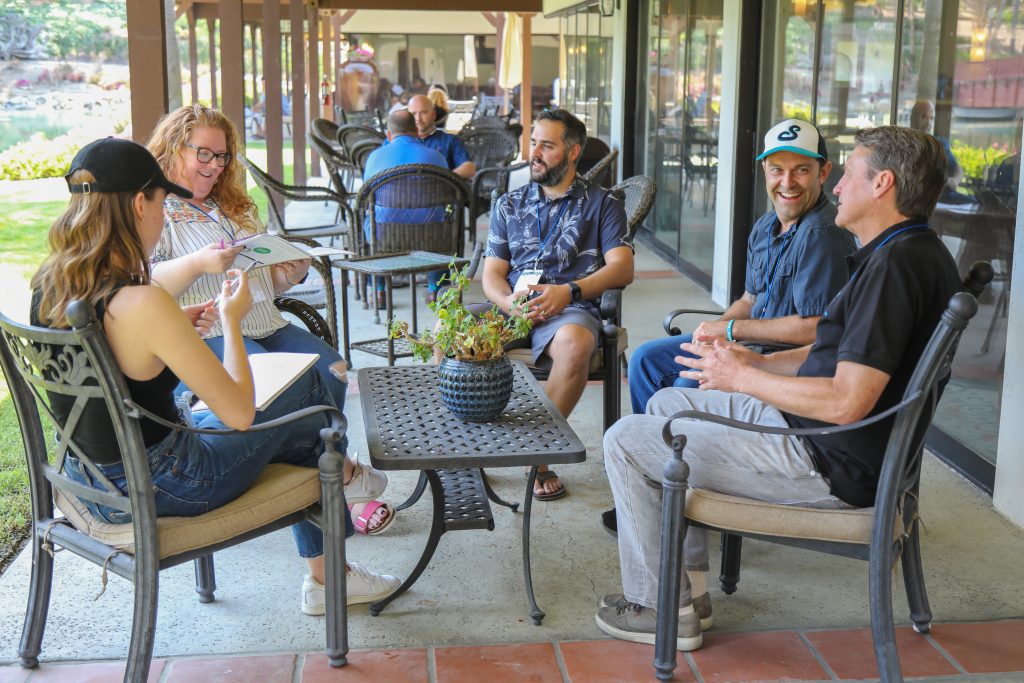 We were told about St. Patrick's from a friend. We first attended St. Pat's in the summer of 2019. Even though Gina was a cradle Catholic and Will was a Baptist, it felt like home right away. We enjoyed Father Matt and Deacon Doug. Everyone was really friendly. We loved the music and the message after coming the first time. After coming over the summer, we decided we wanted to join the parish, so we made an appointment with Father Matt. He was very welcoming and talked to us about our options, but never pushed anything. After seeing some advertisements in the bulletin about ALPHA, we were intrigued and wanted to try it out. Week after week, we were so impressed with how much we were loving it and meeting so many great friends. It was perfect for us, as it wasn't about being Catholic, but coming to Jesus!

Alpha Found Us
Our story is not one of the LOST souls that was searching for enlightenment. Transformation was not part of our vocabulary and we were comfortable in our faith. Our ambition to join was simple. We were curious and interested in learning more about our relationship with Christ.
With some encouragement, we decided to join the Alpha course in the Fall of 2020. The course was virtual and included a series of videos, questions, and discussions about topics that were thought provoking and relevant.
Each session was roughly an hour and a half and included new learning and a small group discussion with less than ten participants. Like anything new, having a discussion with strangers was slightly awkward, but time and universal themes created an atmosphere that was comfortable and inviting. We found ourselves connecting with each other and strangers in a way that was unexpected.
How did this happen? The answer is that Alpha asked the right questions. It is not an accident that the trademark of Alpha is embedded in a question mark.
Although we were not seeking, we FOUND the questions that we should be contemplating, considering, and struggling with. We developed a new way to connect with each other and our faith. Alpha gave us the opportunity. If you are seeking, lost, or found, the Holy Spirit is working here.
– Kara and Nick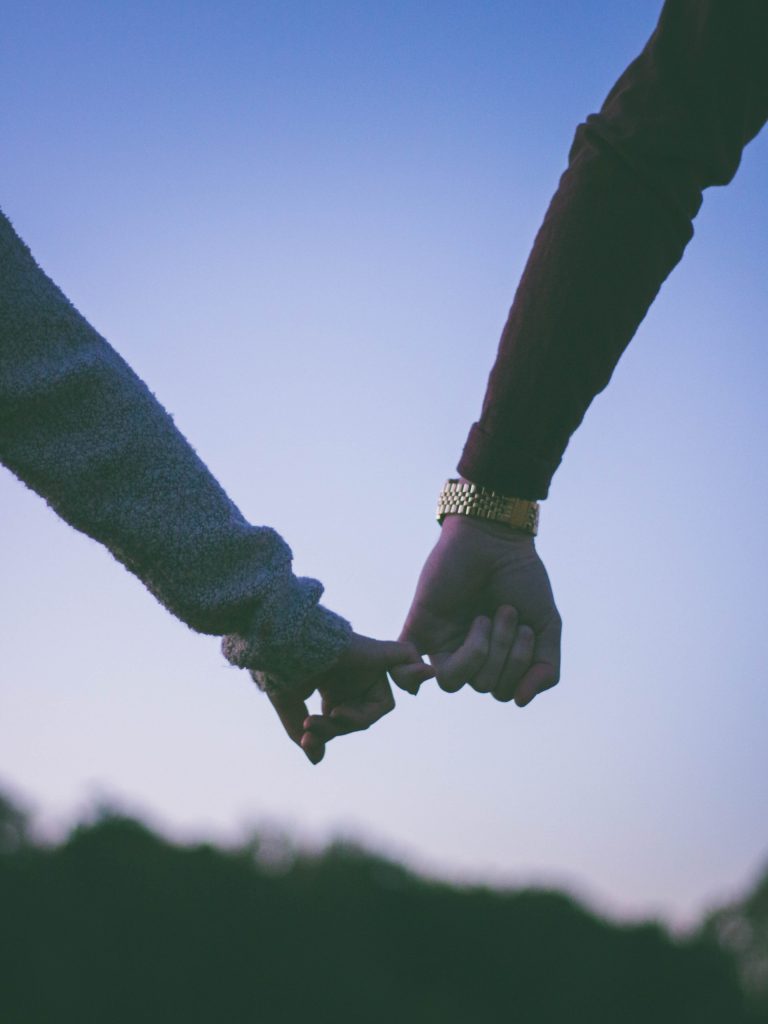 An Enlightening Alpha Experience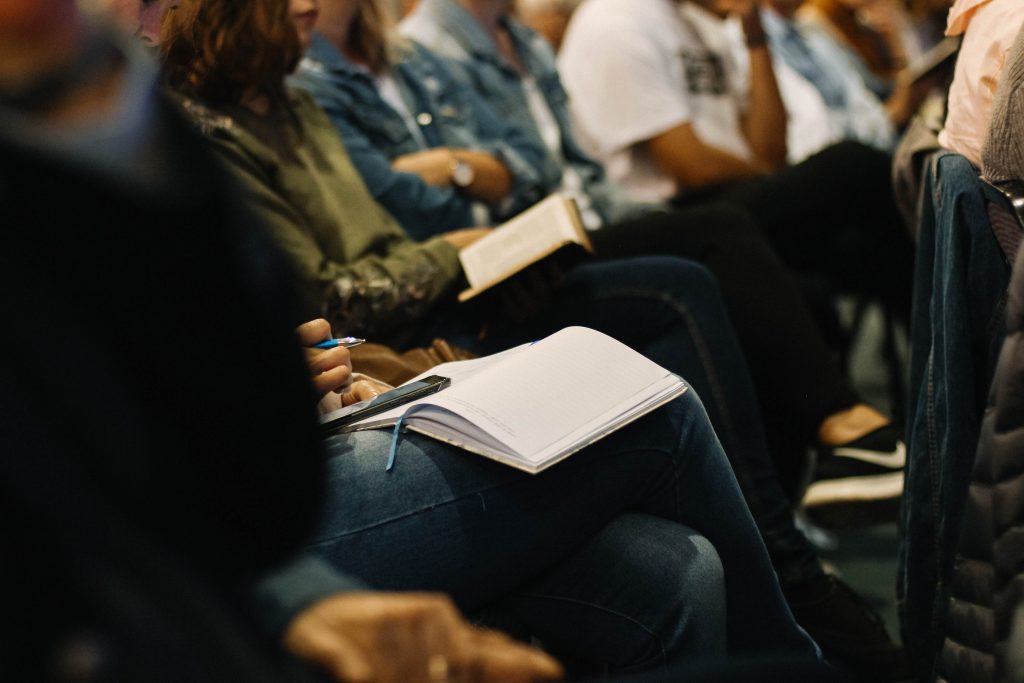 My wife and I signed up for Alpha. She is in the RCIA program, converting to Catholicism. I was born and raised Catholic but have attended other Christian services since I divorced quite a few years ago.
We both found the Alpha Series very enlightening and worthwhile. The moderator in the videos, Nicky Gumbel, was superb. Starting as an atheist, his conversion to Christianity was moving. His selection of "true life" experiences of drug addicts, prison convicts, etc made a big impact–hearing how bringing Jesus into their lives was the turning point from evil to good. Click "Read More" to read the rest of our highlights!

Only Jesus Can Fill the Void
I have a good life. I'm very grateful for my parents and how I was raised. I'm very grateful for my wife, my 4 sons and the life we have been fortunate enough to live. Despite this gratitude I continued to feel like there was more to this life. There was a void. There was one relationship I really hadn't spent time trying to develop. That relationship was with God, Jesus, and the Holy Spirit.
So, I made the commitment to attend and participate in Alpha in an effort to build a stronger relationship with God, Jesus, and the Holy Spirit. It may be cliché, but it is true. You get out of Alpha what you put into it. There was something about it being in Zoom and in the comfort of my home that made me feel more open to share. There was something about the team leading the main group and small groups that encouraged me to stay engaged. There was something about the content that really resonated with me. You put all those things together and it was just what I needed to help fill that void and grow my relationship with Christ. It was the RIGHT message at the RIGHT time of my life.
Moving to Yorkville allowed me to find St. Pat's and finding St. Pat's helped me realize I wanted to grow my relationship with Jesus. Because St. Pat's offered Alpha, I have been able to see how a relationship with God, Jesus, and the Holy Spirit will help fill that void so many of us feel. So, participate in Alpha and see what it can do for you.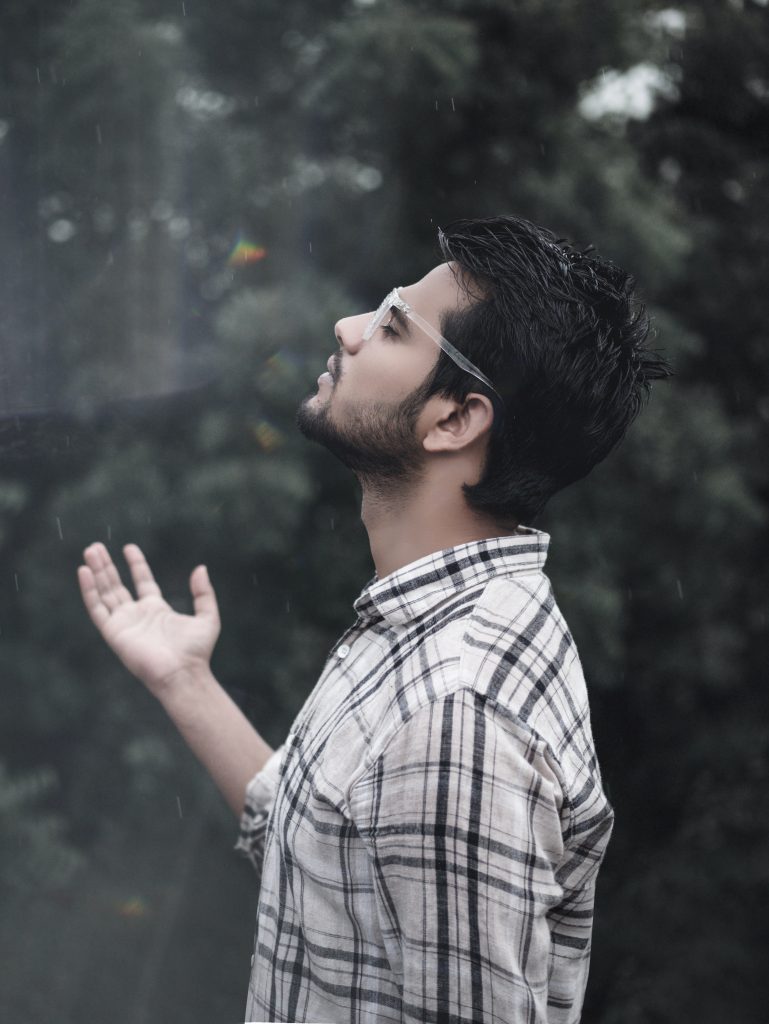 Live Stream Bonds College Friends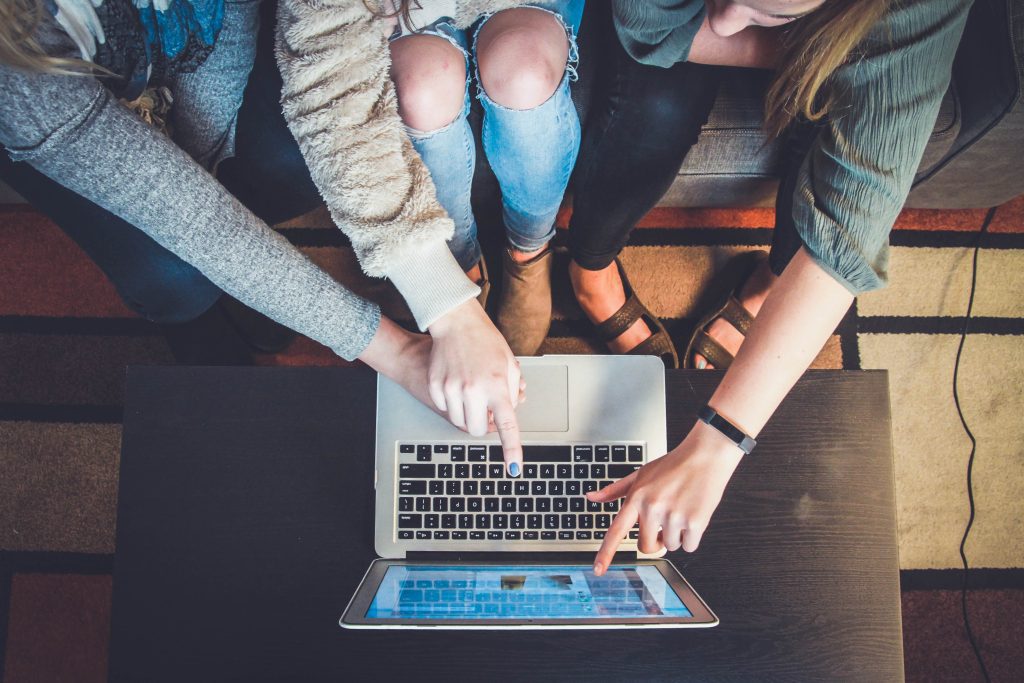 I was living in my sorority house at the University of Kentucky this past year and had gotten very close to five of the women there. I would spend everyday with them. We lost one of our friends in late January and it was a devastating time for all of us, but each found comfort in our faith knowing she was with God and He has a plan. The loss of our friend sparked a lot of conversation and questions among us about our faith. We spent many long nights trying to make sense of what we had gone through and I would often share stories of Father Matt and life at St. Pat's.
One late night, I pulled up his YouTube channel in hopes of getting some laughs out of everyone. We then began watching the livestreams together in our living room and discussed the message of the sermons. We had already been a tight knit group, but seeing how much stronger our faith bonded us together was a powerful experience I will never forget.
-Calli B.

A Life Changing Palm Sunday
I wanted to share with you the incredible experience I had this past Sunday while attending the Palm Sunday Drive-In service. As you know, the weather on Sunday was very windy and the sky was filled with dark, angry clouds.
During the reading of the passion when the crucifixion began, the wind picked up even more, the clouds were racing across the sky, it was surreal watching it through the windshield and at that moment I felt as if I was right there standing at the foot of the cross. When our Lord took his last breath the clouds began to part and the sun streamed through. Even now as I write this, the intense feeling of Christ in our presence at that moment is very vivid. I looked out the window and I saw the people in the car next to me looking up to the sky as well.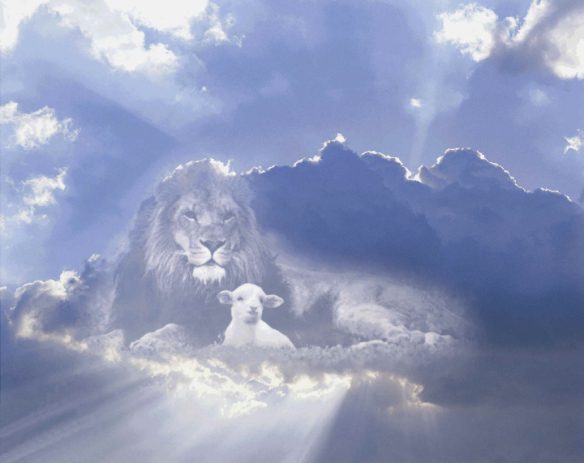 A Fruitful Operation Santa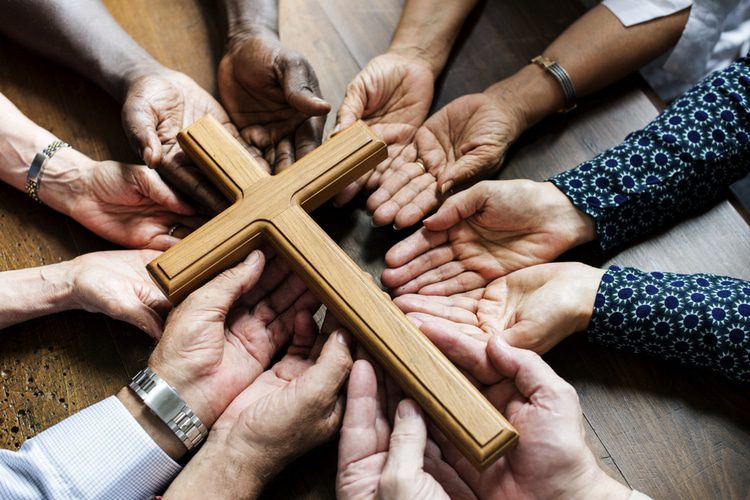 Thank you so much again to you and your team for organizing such a wonderful evening!! The Operation Santa lady, Teresa, was moved to tears and was SO appreciative of St. Patrick's donations! She said members in her group from St. Patrick were so happy that we donated too! Great job by all of you!!
She told me that St. Anne Oswego donated $7,000 in gift cards and then we donated close to $5,000 in gift cards to the Operation Santa (and food pantry got the rest in Aldi, Jewel, Meijer). So, between the two Catholic parishes in Kendall County, she said they will have enough for a nice Christmas to serve the over 440 families (1200 kids)! They did get other smaller donations from other businesses and churches but she said without us and St. Anne, she would have started to get a little worried. What a great example of the community coming together!!!!!!!!
Praise God for all the blessings on so many levels!
Cathy

A Moving Drive-In/Tune-In Experience
I wanted to again express my sincere thanks for the grace-filled opportunity I was afforded yesterday at the 10:30 AM Mass.
I served as EM, distributing the Holy Eucharist to those in attendance in the parking lot yesterday. I was strongly moved both spiritually and physically by my encounter with several parishioners, for whom it was apparently their first opportunity to physically receive the Body of Christ since this COVID-19 pandemic began. I definitely felt the presence of Christ there with us, and I expect the same was true for them as well. Thank you so much for opening up this opportunity for those who hunger for the Eucharist but are not able to or comfortable with attending Mass within the walls of the church building. I certainly pray you will continue to offer this opportunity to parishioners.
Sincerely, Mark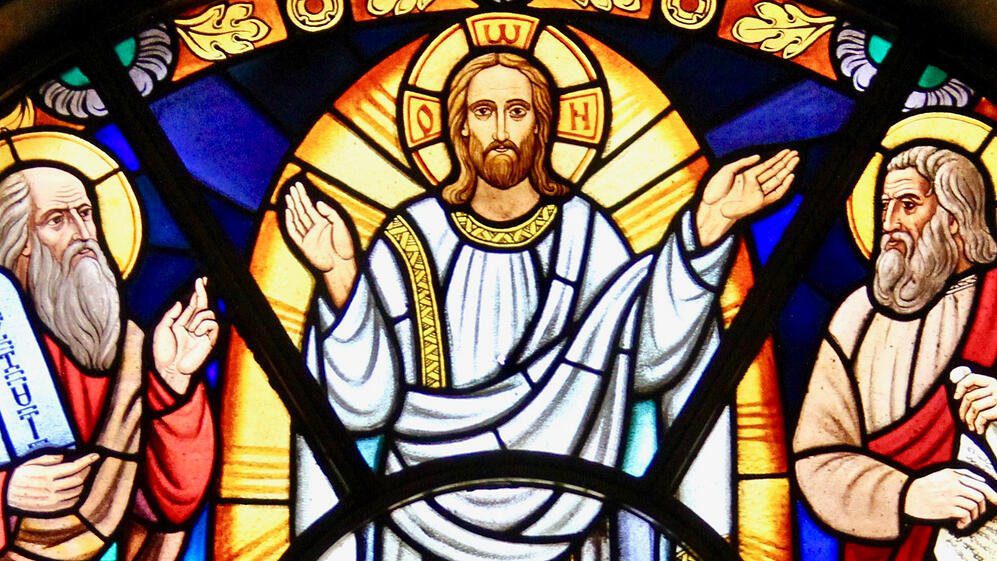 The Power of the Holy Spirit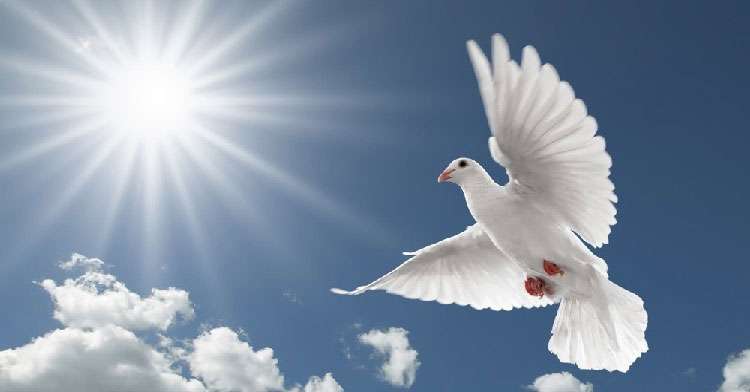 Definitely my life has been changed by the Holy Spirit this past year!!! And so has my husband's. Meeting with Deacon Doug and encouraging us to pray as a family since marriage preparation and also getting us to try Alpha (twice partially due to weather & sitter issues) has been wonderful! My husband & I both have seen the power of prayer. Our daughter's Reconciliation & First Communion training (at St. Thomas Aquinas in Cookeville TN) was/continues to be very parents hands-on with us teaching "God's Gift, Eucharist " text books from Loyola Press to our kids. This experience has also been a great refresher for myself in why we do what we do during Mass. I also turn to the Rosary & prayer more often as well as reading bible stories to my daughter this past year. ?
I shared St. Patrick Yorkville's website on my Facebook page two times since March 13 Lockdown in TN & praised your work & message! Thank you for all you do & we miss you so much!