Celebrate Christmas Masses

In-Person Masses
Christmas Eve: December 24 at 3pm, 5:30pm, and 8pm
Christmas Day: December 25 at 10am and 12:00pm
Drive-In/Tune- In Masses
Christmas Eve: December 24 at 3pm and 5:30pm
Christmas Day: December 25 at 10am and 12:00pm
Drive-In/Tune-In Mass is available in the west parking lot; Communion is distributed.
Live Streamed Masses
Christmas Eve: December 24 at 3pm and 8pm*
Christmas Day: December 25 at 10am
*The 8pm Mass will be rebroadcast at Midnight.
Please register HERE to attend any in-person or Drive-In/Tune-In Masses

The Music of Christmas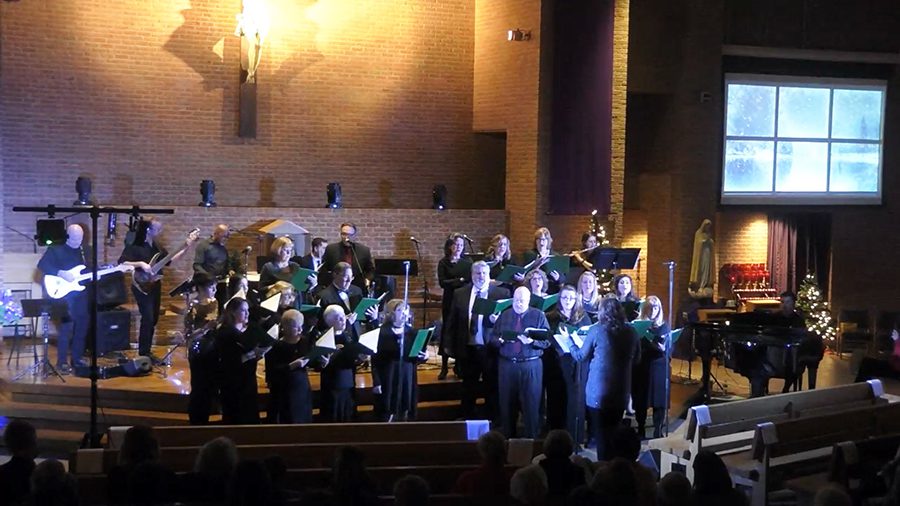 Enjoy festive music from a variety of our talented musicians airing on Friday, December 18th at 7pm! (Picture from 2019 concert)
Drive-by Nativity, Christmas Lights, Food and Gift Card Drop Off!
December 11, 4pm-8pm
Drive by to view the lighted trees and nativity, wave at Santa and Mrs. Claus, pick up a treat for the kids and your pet, all from the comfort of your cozy car!
This is the season of giving and in the spirit of the giving tree, please bring a non-perishable and/or gift cards for the Kendall County Community Food Pantry to provide a meal or gift for families in need. Drop off will be from 4-8pm in the parish parking lot.
Please donate to support our mission!
Please consider supporting St. Patrick of Yorkville Church so that we may continue our many ministries and mission! Thank you for your generosity!