Exciting News!
During Fr. Matt's homily on the weekend of June 3 & 4, 2023, Father Matt announced big plans for the parish: "We have big plans to announce, we have God-sized plans to announce! Now is the time to embark on the next stage of our parish journey, a feasibility study for a capital campaign, and we need your help in discerning what is possible."
As the parish and community has grown, so has the needs of our parish center facility and use of our parking lots.  Click the photo to read Father Matt's letter and the essential details of this campaign for the renovation and expansion of our 35 year old parish center and parking lots.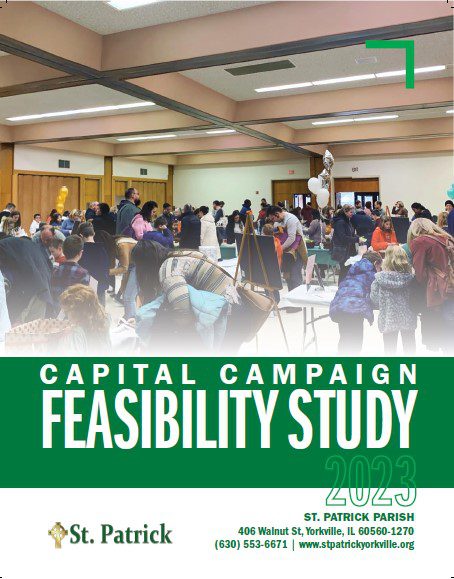 What is a Feasibility Study?
Father Matt announced at Mass that the parish is undergoing a feasibility study to help plan for the parish center/parking lot project.
The purpose of a feasibility study is to:
Gather parishioner input on the proposed project before a capital campaign is launched.
Determine levels of support.
Help to set a budget, clarify goals, and develop a plan for the project.
As a parishioner, how will I be able to provide my input on the proposed project?
The feasibility study will obtain input from parishioners using two important methods – personal interviews and an in-pew survey – in order to get a representative sampling from our community. These two means of data collection will provide a balance of opinions and attitudes, preserving both the integrity of the study and your personal privacy. Our Sunday Visitor, an independent, experienced, and objective outside agency, will conduct the study beginning in June, 2023.
What will happen to the results of the feasibility study?
Our consultant for this study from Our Sunday Visitor will evaluate responses and provide an extensive analysis of the results. This will include both a written evaluation of the responses and opinions received from the study, as well as recommendations as to the extent to which we can proceed to fulfill our dream for our parish family.
Additional Questions and Answers related to the Feasibility Study are available below.